Mike Roche - Owner/Engineer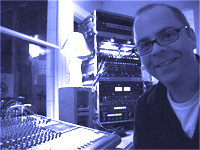 Self-taught musician (over 20 years). I play guitar, bass & drums - out of the three, I'm best at guitar. I used to teach guitar privately and at local music stores. I bought a Tascam Porta 01 4-track cassette recorder in the late 80's and spent the better part of my time learning how to make it sound good. I moved to San Francisco in the early 90's and gained experience as a studio musician while working full-time at Spitzer's Music. Missing the Mitten, I moved back to Kalamazoo after a little more than a year. I began to record friends in a barn at my Mom's house. Friends started paying me to record their bands in the barn. Opened Broadside Productions in 1994. Bought more gear. Bought a bigger building.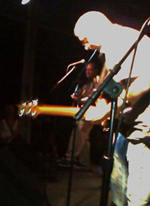 I've played in a number of bands - spent a good part of the late 1990's-2001 in a rock band called Thought Industry (Metal Blade Records) driving all-over the US in a smelly van playing shows in smelly bars with good friends.

I like (and record) ALL kinds of music. Rock, Punk, Metal, Blues, Pop, Indie, Alternative, Jazz, Accapella, Classical, Hip Hop - everything. It's been a pleasure to work with so many talented people with different styles.




Why "Broadside?"
---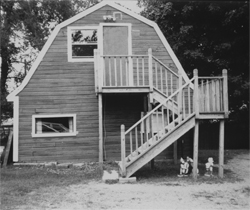 Where it all started - The Barn, Texas Corners, MI Photo taken sometime in the mid/late 90's.
The
studio started in a small barn
in
Texas Corners, Michigan
. "
Broadside of a Barn
"...git it? The ol' Barn was a great place to start, but we quickly outgrew the space and had to seek new diggs.
Today, we're located in a 3,100 SF building in the Vine Neighborhood - downtown Kalamazoo, Michigan. It's a Historic building designed by Ernest Batterson - a prominent Architect in Kalamazoo in the 1920's. Our personal residence is situated in one half of the building, the recording studio in the other half.
We're currently in the midst of an extensive renovation. The living side now complete, we'll hopefully make enormous progress on the new recording studio in 2010.
On Recording...
---
I try to play a somewhat passive role during sessions - unless you REALLY want my 2 cents-artistically. I'm not here to make you do things my way, or act as a small-town producer. If you're looking for someone to work with you in a more "hands-on" fashion (helping with arrangements etc...), I'm willing to do so, but will never force my production preferences on anyone.

Will Do's :
-Record your music in an efficient manner.
-Provide direction/advise that keeps the session moving along smoothly.
-Return your calls and emails promptly.
-Make sure your headphone mix is awesome!
-Point you toward the best local restaurants and where to buy a 6-pack.
Personal Discography:
---

2013
ALEWIVES
This project was the result of writing songs over the course of about 12 years with
Dave Grant (Rollinghead)
. We released a 12-song CD in July 2013. The record is available in CD and digital download on iTunes,
CD Baby
, Amazon,
Bandcamp
and other music sites.
ALEWIVES Facebook page

2001
Thought Industry
- "
Shortwave On A Cold Day
" (Metal Blade Records) 17 songs. Released on 09/11/2000 of all days. I guess you could say it was an Arty/Pop/Rock record.
Clip #1
"Lovers In Flames"
Clip #2
"Waitress in a Bar Hovering IO"
1996 - The Casies
- remnants of TABLE, but pop-rock songs this time around.

1994 - TABLE
- "
Blank
" - 6 super technnical-metal songs.

1992 - The 4-track Demo (on cassette!)
- of guitar instrumentals from my guitar-shredder phase.
There have also been a great number of one-off projects throughout the years (of various styles) that I have recorded w/ friends, family and studio clients.
Tours/Shows:
---
Played at: The Double Door, Shubas, The Metro(Chicago, IL), The Knitting Factory (CMJ Music Festival), The Continental Club (New York, NY), Middle East (Boston, MA), Magic Bag (Detroit, MI), Metro Cafe (Washington, D.C.), Khyber Pass (Philadelphia, PA), Blind Lemon (Cleveland, OH),The State Theatre (Kalamazoo, MI), Hairy Mary's (Des Moines, IA) and many more.

Opened for: Elliot Smith/Heatmiser, Free Heat (ex-Jesus & Mary Chain), The Frogs, and Sting's son...really.